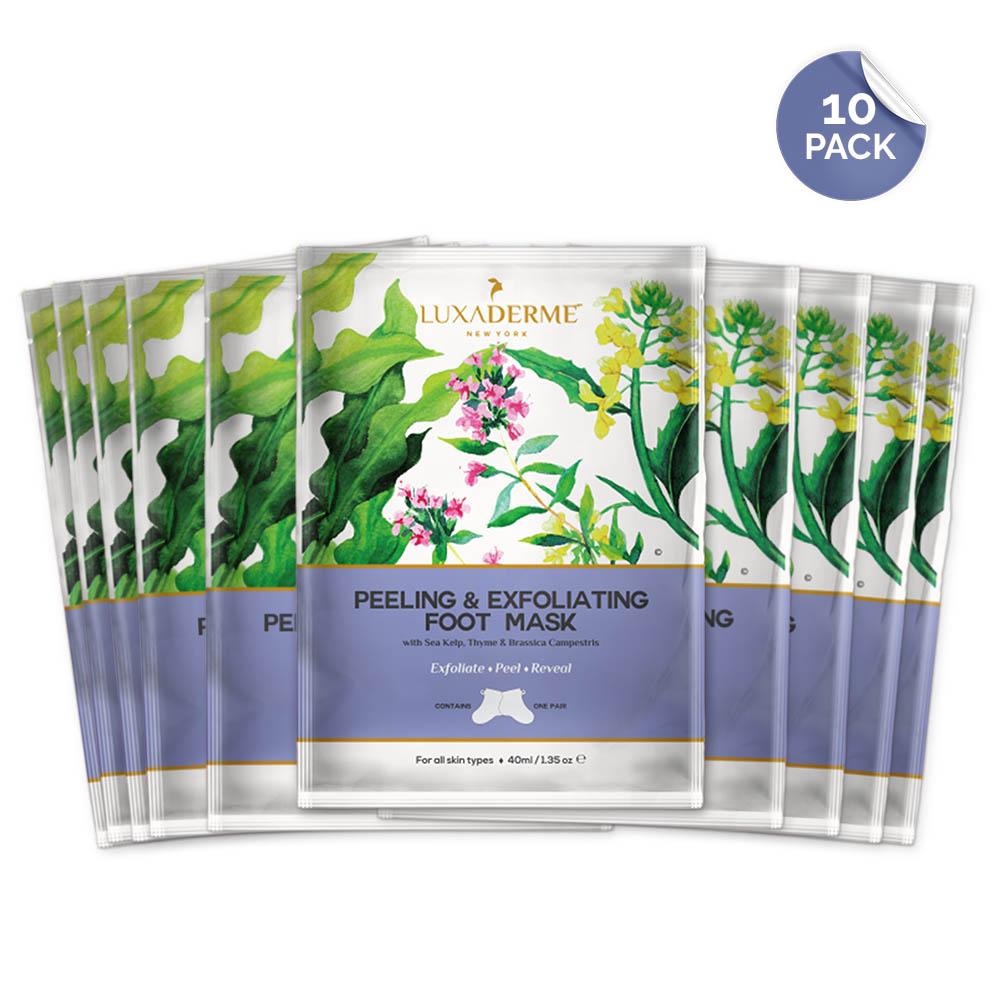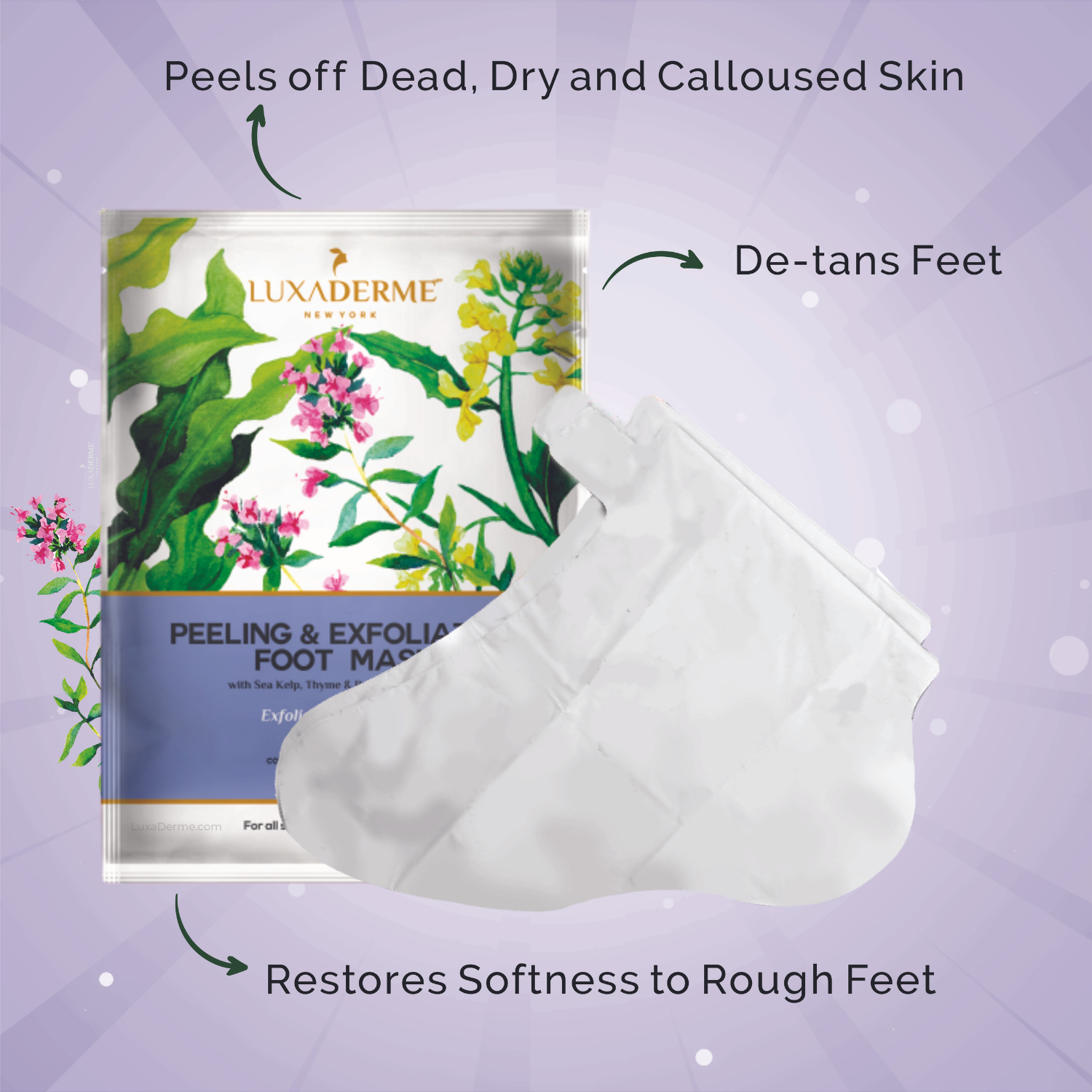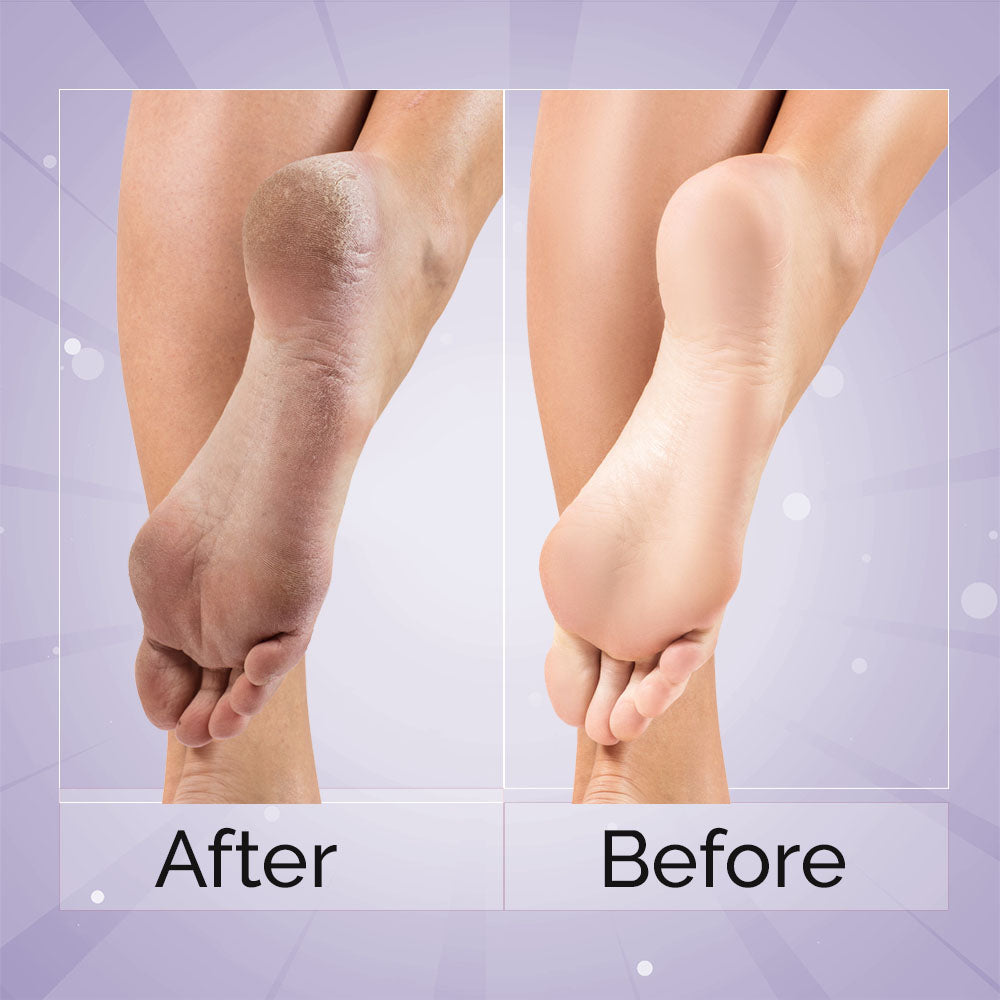 TEST Peeling & Exfoliating Foot Mask
$7.88
Regular price
$12.00
Subscription • Save
Description
How To Use
Ingredients
Goodbye cracked & calloused feet! Hello baby soft feet!

helps take out the rough outer layers of skin essentially revitalizing the feet and revealing new skin.
Infused with a rich blend of 30+ botanical extracts, Alpha Hydroxy Acid (AHA), Beta Hydroxy Acids (BHA) and other specialized ingredients to help your feet revive and rejuvenate.
The botanical extracts possess antibacterial properties, providing aromatherapy to your feet and protecting that extra sensitive skin after the dead skin is peeled off.
A single 90-120 minutes application will turn your rough and calloused feet into being soft, smooth and supple in 10 days.
Benefits:
Peels off dead, dry and calloused skin.
De-tans feet and fights foot odor.
Reveals new soft feet in 8-10 days.
Restores softness to rough feet.
For optimal results, please follow directions as follows:

1. Cleanse: Clean and dry your face before using the mask..
2. Apply: Gently remove top and bottom mesh layers. Put it gently underneath your eyes and smoothen the mask to seal it evenly on the school.
2. Relax: De-stress your day for 20-30 minutes and relax. Let the serum incorporate into your skin. 
3. Radiate: Remove the sheet mask gently, allowing the excess serum to absorb into your skin. Do Not rinse your face; let the treatment dry naturally and use the excess serum on the face.
Effipulp® - A patented concentrate of Avocado peptides which is a brilliant detoxifying agent. Effipulp® strongly cleanses the skin and restores skin's cellular function.
Allantoin  - An Eurasian herb derived from the roots of the comfrey plant. It helps in soothing the skin and reducing the scarring. It additionally works wonders as a calming agent, even for sensitive skin.
Acai Berry - Infused with Vitamin A and Vitamin C, Acai berry works impressively as a peeling and anti-aging ingredient. It also helps clears out clogged pores. 
Arginine - A moisturising agent that helps improves blood circulation leaving skin soft and supple. It also brings out a beaming glow on your face. 
Lotus Flower Water  - Infused with antioxidants, flavonoids, fatty acids, proteins, vitamins, and minerals, it purifies, soothes and hydrates skin.
Effipulp®,Nelumbo Nucifera (Lotus) Flower Water,Methylpropanediol,Glycerin,Aqua,1,2-Hexanediol,Butylene Glycol,Propanediol,Camellia Japonica Flower Extract,Persea Gratissima (Avocado) Fruit Extract,Maltodextrin,Hizikia Fusiforme (Sea Weed) Extract,Gelidium Cartilagineum (Red Algae) Extract,Ecklonia Cava (Brown Algae) Extract,Codium Tomentosum (Green Algae) Extract,Arginine,Allantoin,Ubiquinone,Euterpe Oleracea (Acai Berry) Fruit Extract,Trehalose,Betaine,Caprylyl Glycol,Ethylhexylglycerin,Polyglyceryl-10 Laurate,Carbomer,Sea Salt,Xanthan Gum,Magnesium Ascorbyl PhosphateParfum**IFRA Certified Allergen Free Fragrance